In February 2021, ONVIF welcomed Leo Levit as the new chairman of the Steering Committee, the first new leader in nearly ten years. Learn a little more about him, his role with ONVIF and plans for the upcoming year.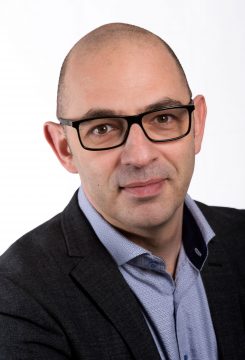 What is your background in the security industry? What is your current role?
Currently, I am the Director of Systems Integration at Axis Communications, but prior to this role, I was Global Product Manager of Analytics Solutions for Axis. My career in the industry began at the age of 18, when I worked for an integrator, which set the stage for my continued interest in IT, communication, and security technologies, and subsequent roles in engineering and business management. This cumulative experience connects with matters of interoperability and technology development, and I'm looking forward to leveraging my technical background, practical knowledge of interoperability and leadership experience as chairman.
What's new at ONVIF and what will you be focusing on during your tenure?
While it's been a challenging year, ONVIF has made some major strides as an organization, with initiatives that we'll continue this year. As many know, ONVIF adopted the use of the GitHub open-source development platform – an important step in streamlining our specification development processes. It allows ONVIF member companies and developers from other companies and industries to provide input to the development of specifications. This will bring in more diverse perspectives and experiences. We also announced the Release Candidate for Profile M, which opens up the possibility to extract data that is valuable not only for security and safety applications but for other industry purposes as well. I'm looking forward to exploring this further with ONVIF, as this will help device and client manufacturers as well as system owners and integrators to explore approaches that focus on vertical interoperability, allowing for more multi-purpose usage of devices in the network. 
As far as my focus for ONVIF, it's quite simple – it's how ONVIF can continue to be relevant for its members and to the security industry at large. The goal with this is to continue to drive ONVIF in a direction that speaks to the needs of the industry, as directed by our members, who ultimately decide the specific profiles and initiatives of ONVIF. With this in mind, we will continue to focus on how the ONVIF strategy will continue to adapt to this changing landscape of the security industry and global demands.
What are some challenges facing ONVIF and the physical security industry at large?
Current economic trends and pandemic aside, ONVIF will continue to be tasked with meeting the needs of an industry that's going through quite a bit of transformational change. As the use of AI within security devices continues to be adopted, interoperability beyond just the camera is required. It's important that ONVIF encourages and enables the adoption and growth of different applications within AI. This will open up a great potential for the devices and clients in surveillance systems to provide increasing value beyond surveillance and safety applications.
In terms of the security industry at large, the traditional landscape is changing. In recent months the scope has widened to include the addition of bespoke solutions to satisfy pandemic safety measures, including crowd management, social distancing and face mask detection technologies. This is just one example of the expanding expectations of security. I believe we can meet these expectations by strengthening the role of interoperability today and further promoting the use of open platforms that can help organizations create a more holistic, sustainable system that is flexible and based on changing user needs.