Profile T

For advanced video streaming
H.264 / H.265 video compression
Imaging settings
Motion alarm and tampering events
Metadata streaming
Bi-directional audio
Profile T is designed for IP-based video systems. Profile T supports video streaming features such as the use of H.264 and H.265 encoding formats, imaging settings, and alarm events such as motion and tampering detection. Mandatory features for devices also include onscreen display and metadata streaming, while mandatory features for clients also include PTZ control. Profile T also covers ONVIF specifications for HTTPS streaming, PTZ configuration, motion region configuration, digital inputs and relay outputs, and bidirectional audio for conformant devices and clients that support such features.
Download ONVIF Profile T Specification
NOTE: Profile T is not intended as a replacement for Profile S. Both Profile S and T specifications have their own application areas and can be combined.

ONVIF Profile Feature Overview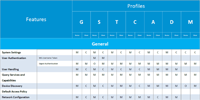 Click on the ONVIF Profile Feature Overview v2.6 (April 2022) to get an overview and a comparison of the features supported by all ONVIF profiles, and whether the features are considered mandatory (M) or conditional (C) for a conformant device or client.
Video