Profile D

For access control peripherals
Transfers input credential identifiers and requests for access
Performs actions such as locking/unlocking
The Profile D specifies the interfaces for peripheral input devices such as token readers (for cards, keys, mobile phones or bar codes), biometric readers (for fingerprint recognition), cameras (for iris, facial or license plate recognition), keypads, sensors (for lock status, door status, temperature or motion), and output devices such as locks, displays and LEDs.
A Profile D peripheral device captures input credential identifiers and passes them on to a securely located Profile D client, such as an access control unit or management software. The client, which stores access rules, schedules and credentials, can then take the access decision and send a command back to the peripheral device to grant or deny access, display a message or request additional input such as a PIN code.
The Profile D specification enables a conformant client to configure a conformant device with the necessary data such as which door and access point the device is responsible for, as well as configure a list of allowed or blocked credential identifiers in a device that supports this capability.
ONVIF Profile D complements Profile A and Profile C in enabling standardized communications in an IP-based electronic access control system. Profile D devices — such as an IP camera with a relay output connected to a lock — can also support other ONVIF profiles such as Profile M and Profile T for an integrated video and access control system using ONVIF interfaces.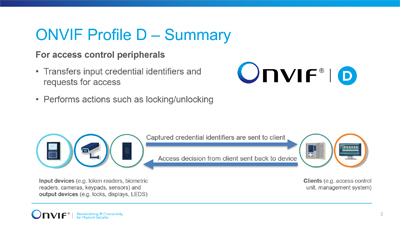 See the ONVIF Profile D presentation (July 2021) for an overview.
Click here to access the ONVIF Profile D Specification.
See press release.
See the ONVIF Profile Feature Overview v2.6 (April 2022) to get an overview and a comparison of the features supported by all ONVIF profiles, and whether the features are considered mandatory (M) or conditional (C) for a conformant device or client.