Profile Q

For quick installation
Easy setup
Discovery, configuration and control of conformant devices
Profile Q is for IP-based video systems and its aim is to provide quick discovery and basic configuration of Profile Q conformant products (e.g., network camera, network switch, network monitor) on a network. A Profile Q conformant device is one that can be discovered and configured by a Profile Q client. A Profile Q conformant client is one that can discover, configure and control a Profile Q device over an IP network. Profile Q also covers specifications for TLS (Transport Layer Security) configuration for conformant products that support this feature. TLS is a secure communication protocol that allows ONVIF devices themselves to communicate with clients across a network in a way that protects against tampering and eavesdropping. Special attention should be given to the Factory Default State when deploying an ONVIF Profile Q Device.
Download ONVIF Profile Q Specification
Note:
To ensure effective interoperability of IP-based physical security products, ONVIF provides specifications referencing state-of-the-art cybersecurity standards. Compliance to regulations, however, are outside the scope of ONVIF.
Manufacturers, system architects and/or integrators are responsible for checking regulatory and other local requirements, ensuring solid product and system design, and implementing the appropriate security level for the use case.
ONVIF Profile Feature Overview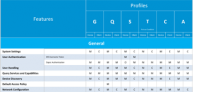 Click on the ONVIF Profile Feature Overview (pdf) to get an overview and a comparison of the features supported by all ONVIF profiles, and whether the features are considered mandatory (M) or conditional (C) for a conformant device or client.