ONVIF Newsletter October 2019

Greetings from Per Björkdahl,
ONVIF and its profiles are widely known throughout the security industry as the standards by which products can use to communicate with each other and what enables devices and clients from different manufacturers to perform basic (but ever growing) sets of functions.
Some ten years and six profiles later, we've developed some other pretty cool stuff along the way. Some innovations are features, not intended for a specific profile, or a function that came into existence as a fortuitous byproduct of something else. In any case, our Core Specification today is full of these additional tools that can enrich the industry perhaps in different ways than some of our profiles.
One of our more recent examples is Export File Format, which provides the ability to export recorded video files in a common format and also provides the video player with which to play the clip. While it certainly serves an important function, particularly to the law enforcement community who need the ability to access video footage from multiple sources in the event of an incident, export file format is not included in any specific profile. Rather, it is a feature contained in our Core Specification, and ONVIF members are free to deploy the feature as they wish.
As part of our regularly scheduled meetings this year we have discussed many of these features. We are excited to have more to share with you in the coming months ahead as ONVIF continues to drive forward new profiles in parallel with discussions on these other innovations that can benefit specific markets or the industry in general.
Kind regards,
Per Björkdahl
Chairman, ONVIF Steering Committee

News 

ONVIF Hosts Members for Fall All-Committee Meetings in Hong Kong
In mid-September, ONVIF members gathered for the biannual All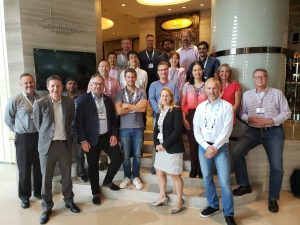 Committee Meeting, held this year in Hong Kong. Meetings of the Steering, Communication, Technical and Technical Services  Committees met jointly on topics of new profiles in development and the maintenance of existing ones as well as discussing new and unique features of the ONVIF specification that can be useful to the market but are not included in a specific profile, a conversation that begun six months ago at the first meeting of 2019 in March in Bristol, U.K.
While the current political climate in Hong Kong may have dampened the travel plans of some visitors, enthusiasm was high for many of ONVIF's current projects, which include advancements in areas such as system to system connectivity, accessibility to the cloud and the continuum of the ONVIF interface within the access control ecosystem. Stay tuned to our next newsletter for more news in these areas.

ONVIF Supports Member Companies at GSX 2019
While ONVIF did not exhibit at GSX this year, many of our member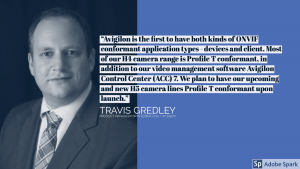 companies did. In an effort to support their initiatives, as well as drive brand awareness, ONVIF hosted the first-ever ONVIF Trivia Challenge. Each week on Twitter, an ONVIF member company provided a trivia question related to how they use ONVIF to achieve their business goals. Any twitter user could answer, and if they guessed correctly, they would be entered to win a Visa gift card. The campaign allowed us to support our member companies who were showcasing their ONVIF conformant product portfolios. Thank you to those who participated and be on the lookout for the next ONVIF Trivia Challenge.

ONVIF "Levels the Playing Field"
To provide perspective on how ONVIF benefits the industry for everyone involved, Tim Shen authored an article titled "Creating a Level Playing Field, One Profile at a Time." In the article, Shen discusses how ONVIF brings out the true values of companies by eliminating the vendor lock-in effect and providing a baseline of features that technology providers can build upon. This creates a level playing field for legacy manufacturers and start-ups, while in turn providing end users with more choices than ever before. Having trouble articulating why ONVIF standards are important? Check out the full article here.